Description
Contents:
3x 75ml Acrylic Colour (assorted colours)
2x 12ml oil
1x glue
4x paper pouring cup
4x wood stirrer
1x 40x40cm painting canvas (100% cotton, 280gsm)
Acrylic Pouring Tutorial:
Pour Painting Methods – Direct or Dirty
Pour painting involves many possible techniques: puddle pouring, swiping, dipping, straw blowing, swirling, flipping, dragging and more. There are loads of great videos on YouTube with acrylic pour painters sharing their methods. As an introduction here we are looking at two basic methods: Direct Pouring where each colour is slowly added individually onto the surface so you have more control and Dirty Pouring where all the colours are layered into one cup and poured all together onto the surface separating and mixing as they flow. You can use almost any surface for a pour painting, but be sure it is grease-free so the paint isn't repelled. Be aware that pouring can be messy and sticky so most artists cover their work area with a plastic sheet or something similar and wear disposable gloves. Please note that for the safety of your drains and the environment you should not pour leavings into the drain, rather let the excess dry and dispose of with your rubbish. The biggest challenge is the final drying stage where you will need to find a very level surface in a dust free area for your painting to dry for 24 hours. If it is not level while it is drying the paint continues to move very slowly and your design could change drastically before it finishes drying and the thick area could pool up against one corner (see the example below).
---
Factors that influence the results
Factors that influence the results include: the choice of colours and special mixtures of colours, the thickness of each colour mixture with medium and water, the ratio of colour to pouring medium, the method chosen for pouring, how much you tilt the surface, whether you run it over the edge or keep it all on top, and any additives used for special effect like alcohol or silicone. (Schmincke advises that adding silicone can cause cracks in their pouring medium, so be aware of the experimental nature of using any kind of additive.)
The choice of colours and special mixtures of colours
A lot of artists seem to like a palette of 5 or 7 colours for a pour painting. The group of colours will affect the mood of the painting. Think about the difference between using fully saturated colours or subdued greyed colours or mostly subdued with one bright, or mostly dark with one light colour. Also consider the location of your colours on the colour wheel – they can be contrasting colours or similar colours – red, orange, yellow, green and blue will be quite different to green, teal, blue, blue violet and purple. You can mix up just that right shade of peachy pink or greyish violet. Many artists choose to use a lot of white in the painting to keep it from getting too muddy or too heavy. Special effect colours like metallics or iridescent colours show up beautifully. Also think about whether you want to alternate transparent colours with opaque colours or warm colours with cool colours. Finally, you should consider how much of each colour to mix up – you might wish to use 50% pink, 20% light blue, 10% violet, 10% white and 10% black.
The thickness of each colour mixture with medium and water
You can get interesting results by having some of your colours a different thickness to others. You can go about this in a few ways. Some brands of pouring medium are a bit thicker than others. You can add water to create a different viscosity, be careful, too much will create cracking, a few drops is probably enough. A few minutes in the mixing cup might let enough evaporation occur that they are thicker than when you started. Adding inks will thin the mixture compared to adding heavy body acrylic paint. If you are using heavy body paint be aware that it is hard to mix into the pouring medium, it stays in clumps if just dumped in – so it is best to start with the heavy body paint in the cup and mix in the medium a bit at a time until the heavy body paint is the same viscosity as the medium when you can then dump in the rest of the medium.
The ratio of colour to pouring medium
This will mostly control how dark or transparent your colours are but can also effect the final gloss and thickness. You can tint the medium with just a few drops or add up to half paint. Experiment with the ratio.
The method chosen for pouring
You can mix your cups of colour and medium and then pour each individually for a more controlled result. Or you can pour them in layers into a main cup (without stirring) and then either pour that out or flip it over and dump it all at once. You can use a brush to touch up bit or a palette knife to drag areas around. The palette knife will drag the top which often exposed a heavier colour that has settled below. You can drag sticks through the stripes of colour to create complex patterns. You can add ink or fluid paint on top of the pouring medium you've applied to the canvas and it will add in and flow if you do it right away before the medium starts to set up much. Be aware that you don't have much time before some amount of setting has started and your changes may not level out to a smooth surface.
How much you tilt the surface
Tilt quickly before it sets too much or it will be too sticky to flow into all the corners. There are tricks for controlling the flow such as first coating the whole painting with pouring medium or pouring medium mixed with white and then pouring. You can run over the sides by mixing up loads extra and tilting quickly so the pattern carries on completely over all the sides. Some painters put a bit of the colour in each corner in advance because a dump pour will be in a circle and the support is often a rectangle so the corners are harder to tilt into. You can pour a small amount of colour and not reach the edges, just make a motif in the centre. You can pour just enough to reach the edges and not go over and let surface tension create a ridge on all the sides.
Additives used for special effects – like alcohol or silicone
This is trickier to recommend as the results are less predictable. If you have air bubbles trapped in your mixture much of the time they will rise and pop before the pour dries. But if they don't it can look unattractive. A light spraying with isopropyl alcohol will break the surface tension and cause the bubbles to pop. It also causes a bit of production of spots called 'cells' in pour painting. These cells are generally prized by most painters and are the holy grail to some. To produce more cells you can add a few drops of silicone to the mixture, but it sometimes causes cracking and it may need to be burned off afterwards, I don't know much about it and so if you are interested there are loads of YouTube videos on silicone and cell production. Another way to both pop bubbles and generate a few cell spots is heat – either with a small kitchen torch (like is used for browning creme brulee) or a heat gun. From experience I caution you to be careful to just pass the heat source quickly over the top as if you rush the drying a top skin will form that will tear as the rest moves and dries and this usually looks bad.
Using a pouring medium instead of another medium such as matt medium will mean you are less likely to get cracks as the surface dries.
This is matt medium and ink. When it dried it cracked, you can't use it as thickly as as you can a pouring medium.
---
Things to keep in mind
Protection from the mess and elevating the canvas
Pouring Medium is a very sticky substance and the pouring process can be quite messy. Cover your work area with plastic sheeting or work in a tray to catch the overflow. An apron or similar protective clothing is a good idea as well as wearing disposable gloves because your hands start sticking to everything. The canvas should be raised above the table to prevent sticking to the table after the medium flows over the edge. Push pins are great for this. Simply push them into the back side of the wood in the corners. I did some of the samples with pins on the back and one just sat on a small pot.
Mixing colours with pouring medium
Lots of small cups works well. I used disposable paper cups. Think in advance about the colour proportions and if you need extra to flow lots over the edge and then mix the appropriate quantity of each colour. Using one cup for each colour pour the pouring medium into the cups and then add colour to each. If you are using heavy body paint be aware that it is hard to mix into the pouring medium, it stays in clumps if just dumped in – so it is best to start with the heavy body paint in the cup and mix in the medium a bit at a time until the heavy body paint is the same viscosity as the medium when you can then dump in the rest of the medium. Stirring with flat wooden stir sticksworks well. Pour right away after you've mixed as the colours will thicken if they sit uncovered.
This is very important. Even though the flow of the pouring medium slows down within a few minutes it continues to move very slowly during the 24 hours it takes to finish drying, which means if your surface is not pretty level your design could change drastically before it finishes drying and the thick area could pool up against one corner. If part gets thicker it could also crack and the area it pooled away from is now thinner and that will be less glossy. So a very flat drying is critical. Choose a level surface where the picture can remain for a day to dry. You can use a spirit level to check your drying area but I have found using bits of card to prop up corners works even better. Set your canvas down and check it every minute to see if it is shifting and tuck a bit of card under the corner it is flowing towards – do this until you don't see any movement. I prop a panel across 3 or 4 jars that are taller than the wet canvas to create a 'roof' or 'tent' above the top so dust can't settle on the surface while it dries.
---
Pouring the paintings
You can start with your canvas plain or with a wet layer of pouring medium or pouring medium mixed with white poured or painted on. You can drizzle from each individual colour in patterns, swirls or lines. You can then use a brush handle to pull lines through the design you have created or a palette knife to drag the top layers across. Then tilt the canvas until you have the design you like.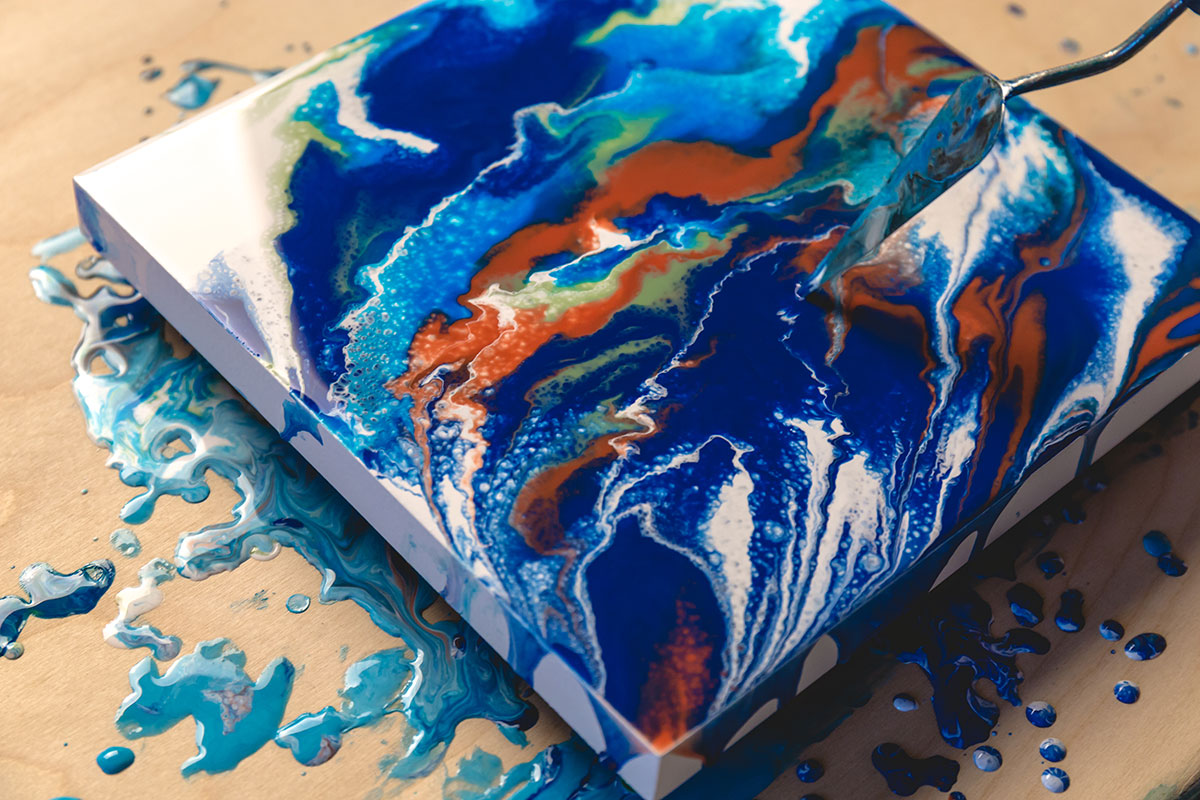 This is the same painting now dry. With little bits of card tucked under as shims it ended up drying quite level so the image is pretty similar to how I left it.
Create a layered cup of colours. Pour the mixed colours in layers in a separate cup – think about alternating light and dark colours, transparent and opaque colours, cool and warm colours, different thickness of colours, different amounts of some colours, repeating the same colour again as another layer and many artists use a few layers of white to keep it all from getting too dark. Do not stir, you want them to stay mostly separate. Put the canvas like a lid on top of the cup and then holding them together flip it over so the cup is upside down on the canvas. Wait a moment to let the colours settle inside the cup then lift the cup to let the colours flow. Tilt the canvas until you have colour everywhere you wish it to flow. I then gave it a light spray of Tim Fisher Pastel Liquifier to pop the bubbles and give it all those small white spots. (You can also pour a layered cup slowly more like direct pouring instead of flipping it.)
The same painting dry. It was not completely level during the drying processs and so the pattern has changed as it slowly pooled up in the lower left.
I did not shim this one – and since it was not level the resin slowly pooled up in one corner. It is hard to show in a photo – on the right the shine is on the right edge of the raised up pooled area – on the left it shows that the thinner area of medium on the right is not so shiny because the resin shifted to the area on the left and a very thin coat of pouring medium is not as glossy as a thick one. Viewed straight on the painting is fine but at any angle you can see a bulge of resin in a triangle in the lower left corner.